INTERSCHOOLS of AIKIDO in URUGUAY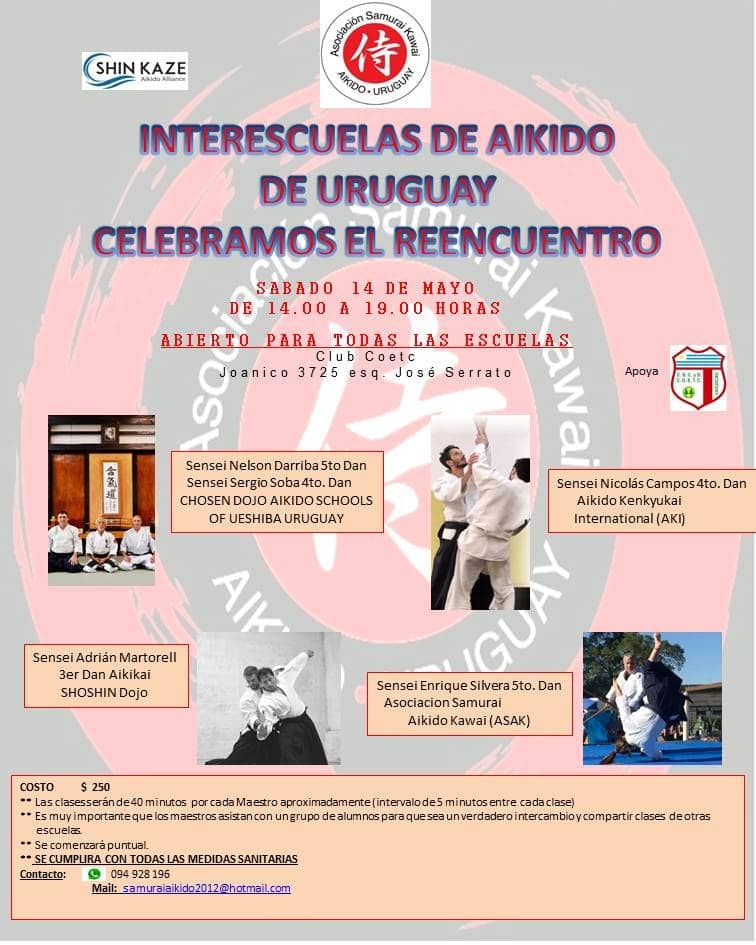 INTERSCHOOLS of AIKIDO in URUGUAY
DESCRIPTION
Interschool Aikido Seminar in Uruguay.
Celebrating the reunion.
INSTRUCTORS
Sensei Nelson Darriba, 5th dan
Sensei Sergio Soba, 4th dan
Chosen Dojo - Aikido Schools of Ueshiba Uruguay

Sensei Nicolás Campos, 4th dan
Aikido Kenkyukai International (AKI)

Sensei Adrián Martorell, 3rd dan
Aikido Shoshin Dojo

Sensei Enrique Silvera, 5th dan
Asociación Samurai Aikido Kawai (ASAK)
DATE
May 14, 2022
TIME
2:00 pm - 6:00 pm
LOCATION
Club COETC
Joanico 3725 esq. José Serrato
Montevideo
Uruguay
INFORMATION
Sensei Enrique Silvera
094 928 196
samuraiaikido2012@hotmail.com
ORGANIZER
Samurai Aikido Kawai
COST
$ 250 URY
NOTES
Open to all schools.
Clases will be 40 minutes for each teacher aproximately (5 minute interval between each class).
It is very important that teachers attend with a group of students so it is a true exchange and to share classes from other schools.
We will start on time.
ALL SANITARY MEASURES WILL BE COMPLIED WITH.