AIKIDO FRIENDSHIP SEMINAR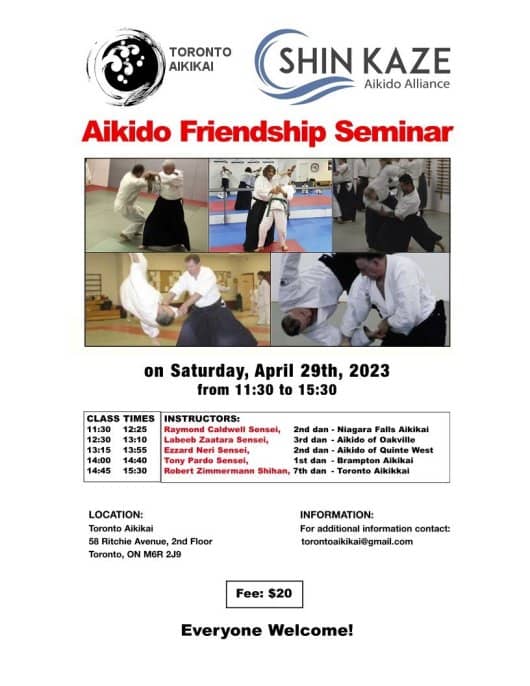 AIKIDO FRIENDSHIP SEMINAR
DESCRIPTION
Toronto Aikikai is pleased to invite you to participate in an Aikido Friendship Seminar instructed by dojo-cho of Shin Kaze Aikido Alliance dojos in Ontario.
INSTRUCTORS
Raymond Calwell Sensei, 2-dan, Niagara Falls Aikikai
Labeeb Zaatara Sensei, 3-dan, Aikido of Oakville
Ezzard Neri Sensei, 2-dan, Aikido of Quinte West
Tony Pardo Sensei, 1-dan, Brampton Aikikai
Robert Zimmermann Shihan, 7-dan, Toronto Aikikai
DATE
April 29, 2023
SCHEDULE
11:30 - 15:30
LOCATION
Toronto Aikikai
58 Ritchie Avenue
Toronto
Ontario, Canada
INFORMATION
Toronto Aikikai
torontoaikikai@gmail.com
ORGANIZER
Toronto Aikikai
torontoaikikai.com
COST
Adults $ 20
Youth $ 10
Lunch $ 20
Registration is required in advance to order your lunch.
Registration page:
http://www.torontoaikikai.com/seminar_apr2023_registration.htm
NOTES
Everyone welcome.