Comments
Header
News from Shin Kaze
April 2023
Shin Kaze Aikido Alliance is an organization dedicated to the practice and development of Aikido. It aims to provide technical and administrative guidance to Aikido practitioners and to maintain standards of practice and instruction within an egalitarian and tolerant structure.
Table of Contents
Introduction
Introduction


A warm welcome to the April 2023 edition of the Shin Kaze newsletter, once again providing its readers with an overview of the diverse cross section of our membership.

In this edition there are articles commemorating O-Sensei and Kanai Sensei, reflections on new beginnings in a post-pandemic Aikido era, impressions on Aikido, experiences from first time Aikido seminar attendees, expressions of thanks for a promotion, the Book Corner, and a cordial welcome to the latest 4 dojos to join Shin Kaze together with a brief overview of each dojo by their dojo-cho.

Please enjoy this issue, which we hope will motivate you to contribute an article or two of your own to upcoming newsletters.
O-Sensei memorial and the remembrance of master teachers
By Jo Birdsong Shihan
Dojo-cho Aikido of Austin, USA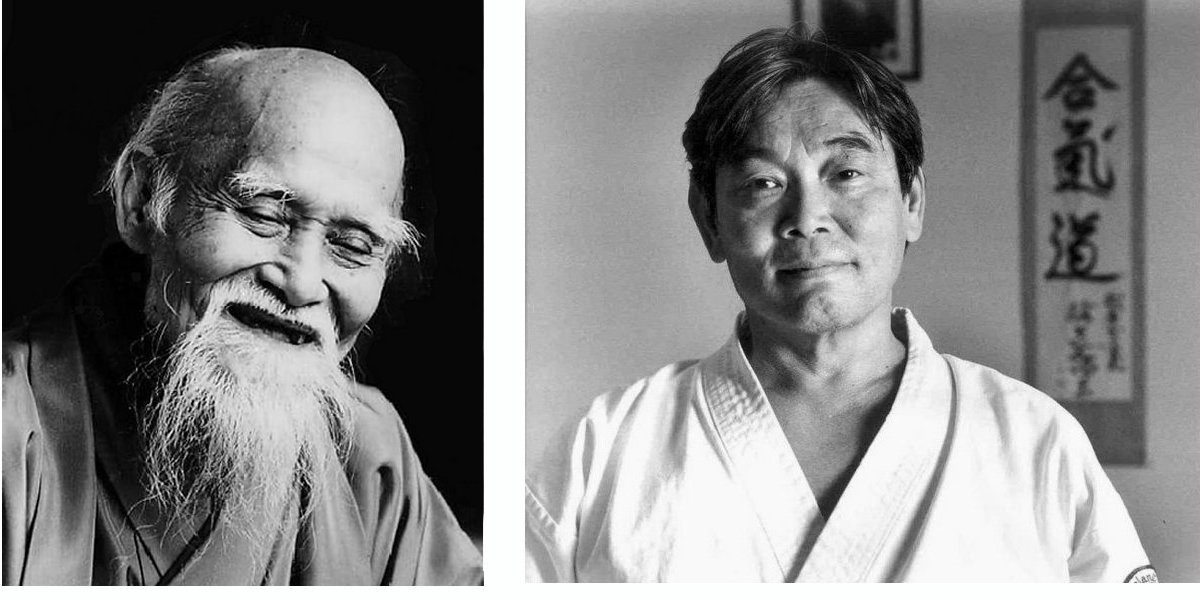 The passing of Morihei Ueshiba, O-Sensei, on April 26, 1969 marked a day of great sadness for the world of Aikido. Fifty four years later there is great joy and happiness at seminars memorializing this date. It is not joy or happiness for his passing but the feeling of love in the hearts of members on the practice mat because of the gift O-Sensei left us. O-Sensei's Aikido is imbued with a loving, harmonious spirit which he taught to his students and is everlasting in the hearts of Aikido practitioners everywhere. O-Sensei's art as a gift to the world should never be forgotten.

The master teachers that traveled the world to bring O-Sensei's teachings to us will never be forgotten as long as we hold the spirit of those teachings high in our minds and our practice. Aikido, the Budo of love, is what O-Sensei taught to his students. As his students became masters in their own right, they followed him and taught us the love in Aikido.

This memorial time for O-Sensei is also an occasion to remember our own teachers who have passed away. One of them is Mitsunari Kanai Shihan (April 15, 1939 - March 28, 2004) of the New England Aikikai. He went to Boston in 1966 and was one of the major developers of Aikido in the United States along with masters Akira Tohei, Seiichi Sugano, Kazuo Chiba and Yoshimitsu Yamada. These shihan taught us the way of Aiki in their own way and have left unforgettable memories with all of us.

My memories of Tohei Sensei and Kanai Sensei include the following. While studying directly with Tohei Sensei in Chicago, I was with the Midwest Aikido Federation. When I moved to Texas, I was technically no longer with the MAF since at that time Texas was considered part of the East Coast Federation (ECF). Tohei Sensei respected the structure of the organization and told me I was no longer in the MAF. I asked if I could stay with him and what I could do to be able to stay with the MAF. He suggested I contact the Shihan on the East coast. Kanai Sensei immediately wrote back to me and said "Stay with your teacher." I appreciated his generous spirit and understanding of the sacredness of the student/teacher bond. Somehow that November Texas was changed in the ECF to an MAF state.

The following story was told to me by a student of Kanai Sensei. One day while Kanai Sensei and his students were practicing Iaido, Sensei gave his family sword to a student to use. They were practicing an advanced Iaido technique involving passing under a beam, and at that time in the dojo there was a real beam above removable shoji screens that they used to practice the technique. The student swung trying to execute shomenuchi and hit the beam. About a foot of the blade broke off from the sword and went flying across the mat, fortunately not hitting anyone. Everyone in the class knew which sword that was, and everything stopped as they looked on, wondering what retribution awaited the student. Kanai Sensei picked up the broken piece, looked at it carefully, and then to everyone's surprise, said: "That sword wasn't any good anyway". He later said the sword was made too rigid which made it prone to breaking. Later, Sensei made a beautiful tanto from the broken piece.

The relationship between teacher and student is a strong one. O-Sensei taught Kanai Sensei well.
A new beginning
By Maykell Torres
Dojo-cho, Aikido Fujisan Dojo, Panama


With the beginning of this year 2023, old cycles close and new ones begin. On a personal level, as aikidokas, as Dojo.

It has been a hectic beginning with adversities, sad and happy news within our Aikido universe, with many moments to remember, reflect and also commit to new goals, and of course more work.

So, here and now what is clear is the incredible desire to continue training and giving everything to continue growing as a dojo.

So in order to feel the spirit of new winds we have made several "loving touchups" to the dojo such as painting it and adding the missing pieces to the nafudakake, and a new calligraphy for the kamiza.

We say goodbye here by sending you some photos of the Dojo! Always remember that you have a home dojo here in Panama.

A big hug with love from Aikido Fujisan Dojo.
Art. 3
My impressions about Aikido
By Luis Seijas
Venezuela Aikido Kokyu Ho Dojo, Venezuela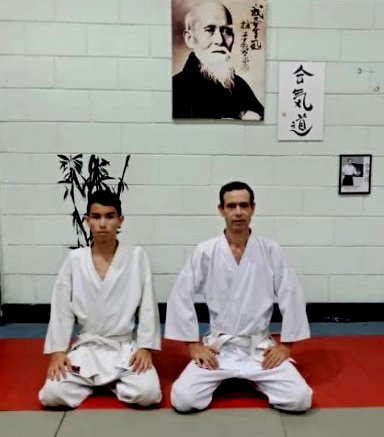 After the remarkable experience at the III Shin Kaze Aikido Alliance Venezuela meeting, lived with a group of the best Aikido teachers in Venezuela for whom I have deep admiration and respect, I offer some of my impressions about this path of life and growth.

Many years ago, when I was young, I was always interested in learning Aikido, and I had the opportunity to practice Karate in a very informal way, and then a friend practiced Ninjutsu in Caracas, and he taught me some movements, but always in a very basic and idiosyncratic way. Keeping self defense as my main interest, I managed to learn the basics so as not to get knocked out at the first opportunity.

But those times passed, and then it was time for work responsibilities and starting a family, so I ended up losing all connection to martial arts, except for some Nunchaku that I still have, however, I have always had a very close connection to the world of sports, such as cycling and table tennis.

I started practicing Aikido, for about 2 years, my children who are 15 and 11 years old are boys, growing up in an apartment, unlike my times when one was on a sports field until 11 at night, without any kind of risk, sharing with healthy people and doing sports. They, from school to the house, to watch television, play with the PC and use the telephone.

I was very uncomfortable with this situation until one day I met a good friend, whose son was a Karate and Aikido teacher, at that time I contacted him and asked him if I could take the children to meet, if they were interested in the practice of Aikido. Although, they have practiced swimming and music, I think they need more things to complement their growth.

In the first two months I took my children to the Dojo of the Central University of Venezuela - Campus Maracay - Venezuela (Dojo U.C.V.). while they learned their Ukemi and basic techniques, he was waiting for them sitting at the entrance of the Dojo. The practice partners began to insistently invite me to the tatami, until the teacher personally invited me to participate. So, I started training in tracksuits and flannels, instead of sitting around waiting for class to end.

I had a very satisfying time for us, and while my younger son became less interested in these practices as time went on, my older son was more involved. I came to think that this was crazy, starting at this point in my life, already 50 years old. However, he encouraged me and together with my son we have already managed to obtain our first Kyu.

It was then, that I began to understand how remarkable the practice of Aikido really is and its enormous benefits for confidence, physical and mental health.

Due to this decision in my life, I had the privilege of meeting Sensei Rafael Pacheco, who was not only a teacher, but a friend, Sensei Jesús González, it is not easy to put into words to describe his extraordinary ability to illuminate his environment, with his explanations and knowledge as a teacher and person. The great humanity of Sensei Aneida González, with whom I have already had the opportunity to share tatami on a couple of occasions. Thus, as with Sensei Jorge Russo with his care in teaching and of course I must also mention Sensei Eric Tovar who shows a particular passion for Aikido which is contagious when teaching classes, Sensei Vicente Maurette and Luís Suárez, in addition to all the fellow aikidokas with whom I have been able to share some technique on the tatami.

I cannot fail to mention the great appreciation I have for Sensei Pascualino Sbraccia (Karate, Iaido) who has accompanied us in various activities in the practice of AIKIJO.

Well, the day of the Seminar, we arrived at Antonio Díaz's Dojo with high expectations despite the fact that the GPS played a trick on me just a couple of blocks before arriving.

However, we were on time, this was my second seminar and my third time at Antonio Díaz's Dojo. But this time it was special since we were going to share the delivery of degrees from some of our colleagues and it was not just anything, since our friend Wladimir Martínez, whom many of us know, was going to be awarded his Shodan degree, a very exciting that reveals the beginning of the teacher's path and well, my son and I had that great experience, as well as the delivery of his Dan degree to our Sensei Rafael, Erick and Luis Suárez.

A fundamental aspect in life is breathing, one can go several weeks without eating, some days without drinking, but without breathing we cannot last more than a few seconds. Even though we want to hold our breath, we will involuntarily try to breathe. This is the main idea that I ended up taking for myself, in this Seminar as a base to improve the development of my learning. I tell you honestly, it is not easy to change what one already takes for granted, but I am taking this with me in the first place. In Aikido, breathing has a fundamental role.

So, like breathing, another element that I have noticed is very important is the warm-up work since this leads us to better understand other very important facets, such as Ukemi. The same thing happens with meditation, it is a key ingredient to develop and cultivate attention - concentration, which is a priority to exercise correctly and prepare for the practice of the basic exercises, when working with an empty hand, when working with the weapons, Tanto, Jo, Bokken. Thus, all this applied to teaching, without a doubt, are factors that will contribute to carry out a higher quality Aikido.

Another element that I would not like to miss is the great opportunity that we have in the Dojo of the U.C.V., since we have several Sensei each with their particularities, and that is precisely where there is a great treasure that is should take advantage As an example, our friend Sensei Vicente Maurette, gave a master class with weapons where the execution of Aikido techniques could be observed through his explanation; highlighting the stability of the body, the displacements and applying the same technique to the same exercise, with the Jo and empty hands. It turns out to be extremely clear, the foundation of the rhythm, the displacement, the time, the harmony and the impeccable result of the technique, in such an elegant and precise way that when seeing that execution, it makes you want to carry out the work following exactly the movements explained. . When working with movements and weapons, this is another point that I add to investigate in detail.

In the philosophical aspect I do not think I have enough arguments on my part, but listening to Sensei Jesús González or Rafael Pacheco in their dissertations on this or that technique or the moment of how to use it or not use it, the details that only see the expert and the result of what we hope to obtain; It really is another level of reflection, for me, the Aikido that must be learned.

It is a golden opportunity to have access to a seminar with this level of category, with this large number of Aikido teachers, in addition to the high quality of the facilities and the environment where it was held.

Really thank you very much. Thank you all for sharing your art with us.
Art. 4
My first Aikido seminar
By Thea Coburn
Toronto Aikikai, Canada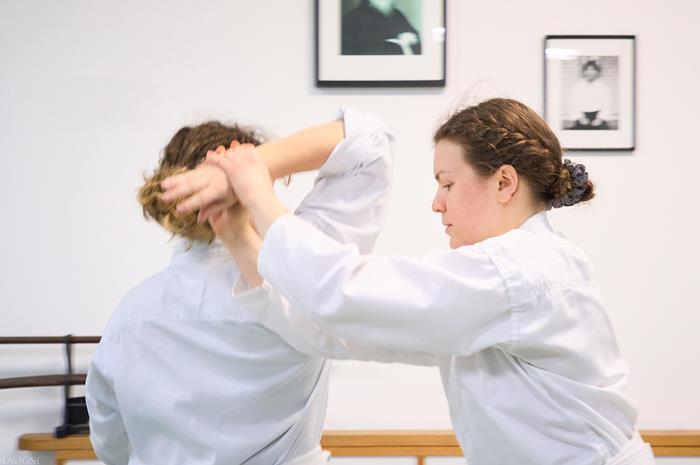 I participated in my first Aikido Seminar this past October 15th. I was hesitant about it as I had only started Aikido a month prior. However, I was encouraged by my fellow practitioners to join anyways. I'm glad I did because it was an enriching learning experience, and I had a lot of fun too. I even participated in my first-ever weapons class that day.

I enjoyed training under the guidance of Sensei David Halprin, and I learned a lot training with those of all levels and ranks. I also enjoyed socializing with colleagues from my dojo and meeting practitioners from other dojos. I look forward to the next one.
Art. 5
A lot all at once
By Jesse Ostojic
Toronto Aikikai, Canada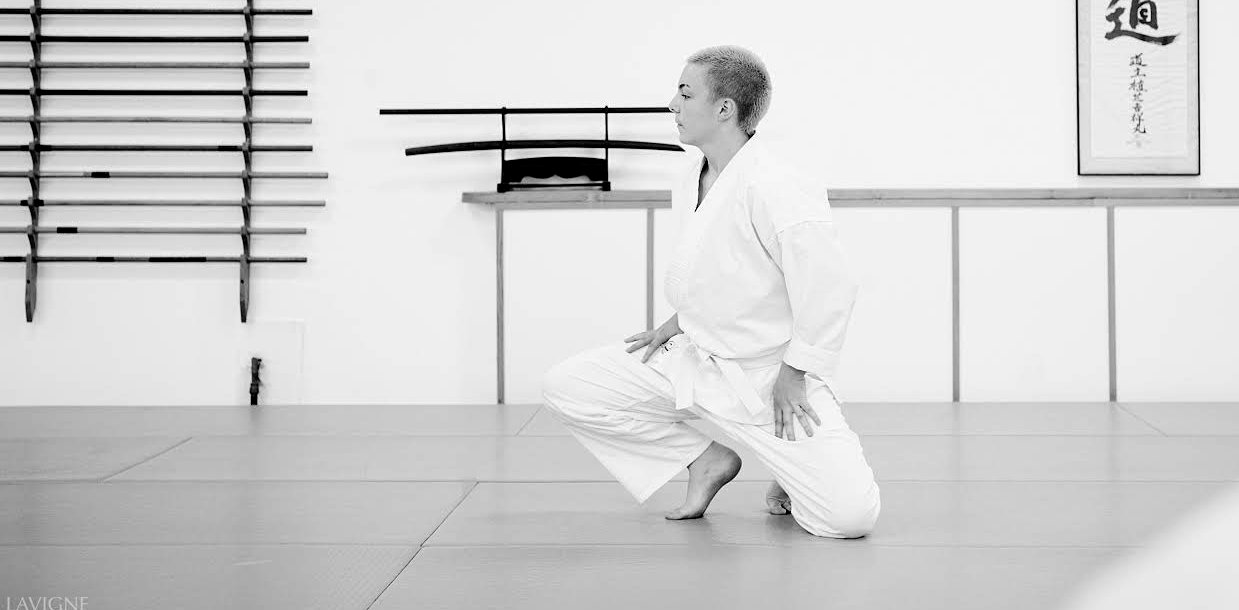 I have not been practicing Aikido for long. To be more precise, it has been just under six months since I started training under the guidance of Robert Zimmermann Shihan, 7th dan in Aikido, at Toronto Aikikai. However, the speed at which I grew and discovered more about the world of Aikido was exhilarating. With each new class, new week, and new event that I attended, I was able to push my mind and body past the boundaries which I had created for myself. It is an entirely unique experience to feel comfort from deliberately stepping outside your comfort zone and past those imaginary lines in the sand. This would be the best way to express the occurrence of my first seminar in October of 2022. I experienced something thoroughly different than anything I have ever done before, and it was as nerve-wracking as it was eye-opening. Oddly enough, when I try to truly dig into the intricacies of how I felt during the event, a very particular memory comes to mind.

It took place in 2016 or 2017 when I was young — err, younger than I am now. My father and I were in Arizona over the March break and we had driven out from the capital city of Pheonix, where our hotel was. The scenery alongside the highway consisted of hours upon hours of fiery red-rock mountains, spot-marked with the passing shadows of overhead clouds. When we finally arrived at our destination, the warm desert air and the looming mountain face shot energy through my drowsy body. There was something about the careful climb up the mountain and the eventual dazzling reveal of the westward view that motivated both me and my father to visit the same mountain a second time during our trip. While the first time exposed us to the view of the deep green pines stretching out for miles far below where we stood, it was entirely transcended by the second visit. That second trip up the slope was almost fantastical in nature. We arrived just in time to watch the sun lower languidly on the horizon, casting a magical brilliance which bathed the landscape in golden light. It was an unforgettable experience that left us both dumbstruck.

If someone were to ask me to explain how this memory reminds me of my first seminar, I would be hard-pressed to produce an explanation that made any sense at all. In fact, nearly every adjective I could use to describe the seminar would prove to be an antonym of each corresponding description of the mountain view. For starters, during the weeks prior to the Friday and Saturday seminar days which I had signed up for, I existed in a near-constant state of nervous anticipation. While I had been given the rundown of what to expect during the event, I still had yet to experience it myself. Touching upon the memory in Arizona once again, the days leading up to that powerful mountain-top memory were spent in passive ignorance, completely opposite to the suspenseful excitement I felt towards the seminar. The dojo which was hosting the seminar, Toronto Aikikai, was also packed with people ready for the day(s) of learning. By no means was this a deterrent to the activities of the day. As Yelitza Cuevas Sensei, 4th dan in Aikido, told me before the seminar, "the room seems to get larger when there are more people," and it was true. My father and I certainly did not experience this phenomenon on that mountaintop, as it was deserted save for us two. Lastly, the expectations and implications of the seminar were completely nonexistent during the everything-goes attitude present on our hike up the mountain. Additional pressure existed outside of the fact that it was my first seminar as someone rather new to Aikido; I was also preparing to take my first-ever Aikido examination. No kidding, as I was called to the middle of the tatami, and during my examination, my hands were shaking. Whether they were doing this due to exhilaration, adrenaline, nervousness or simply fear, I really could not say. However, I found it quite amusing when after my test, I was told by quite a few that I looked perfectly calm.

In the end, there are not many similarities — if any at all — between the Arizona hike and my first seminar. There is one reason that I believe one memory inherently comes to mind when contemplating the other, and that reason is the utter beauty and uniqueness of such experiences. It is quite fascinating to me how a seemingly unrelated memory glues itself to the recollections of my first seminar. From how I learnt more about my own body — including how to control and move it in a more precise manner — to the intense (but lively) atmosphere within the dojo that day, it developed a vivid experience that will forever hold a place in my heart. I believe it comes down to the fact that my first seminar holds a nearly identical spot in my heart to the awe-inspiring moment atop that mountain. They were two completely different experiences, set in completely different periods of my life. They were both, however, a lot all at once. A lot of beauty, wonder, laughs, and of course, learning.
Aiki Comics
Aiki Comics - Suburi, suburi, suburi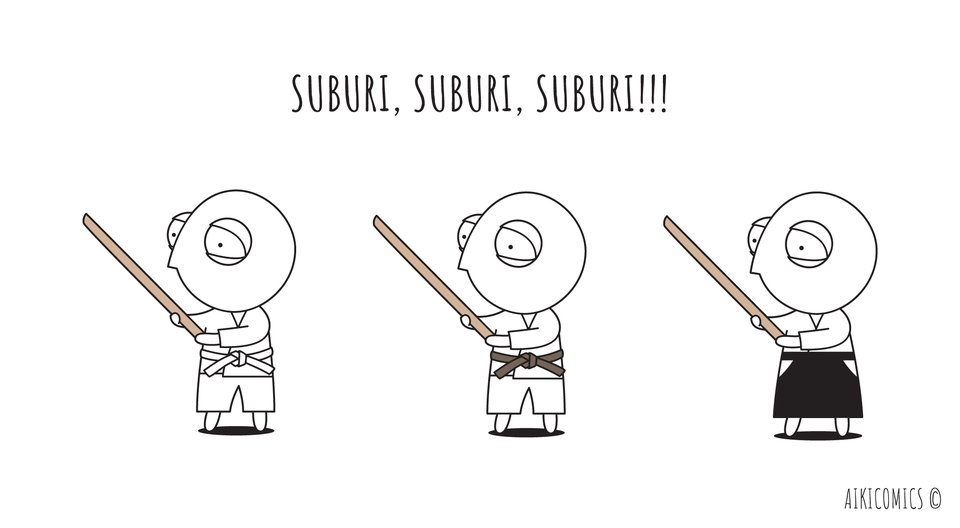 © Aiki Comics by Orit Shilon - Used by permission.
Click on the image to visit the site.
Art. 7
Book Corner: Technical Aikido
By Mitsunari Kanai Shihan, 8th Dan
Chief Instructor of New England Aikikai (1966-2004)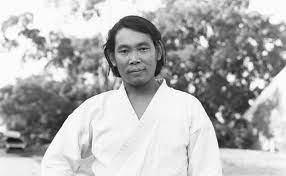 Editor's note: In this "Book Corner" we provide installments of books relevant to our practice. As continuation from the previous issue, here is Part 1 of Chapter 2 of Mitsunari Kanai Shihan's book "Technical Aikido".


CHAPTER 2 - DEFINITION OF AIKIDO AS A COMBAT TECHNIQUE (BUGI) - (Part 1)

It is important to know that Aikido includes a philosophy and ideas that go beyond Budo. Budo is a subset of Aikido, but Aikido is not a subset of Budo. Therefore, developing Aikido technique as a complete form includes, in addition to the principles of combat that will be discussed here, other elements such as Ki (and its constituent elements), Kokyuryoku (breath power), and spiritual functions. These aspects will be addressed in a future work. For the moment, it is more critical to clarify the issue of the physical elements of Aikido techniques, for these provide a necessary foundation upon which to build an understanding of more abstract elements.

Bugi means combat techniques to deal with an opponent who initiates a confrontation. More than that, Bugi's techniques aim to dominate the opponent physically in order to achieve control over him. Bugi has methodology, rules and principles. Bujutsu is a system to organize and continually improve all aspects and elements of Bugi.

The Bugi of Aikido is characterized by the application to combat techniques of two fundamental principles: the Principle of the Unified Body, and Sotai Kankei (the confrontational relationship between oneself and the opponent). Application of these physical principles allows one to more effectively utilize any technique.

Bujutsu no Housoku -- the principle of Bujutsu requires that all techniques and movements, and all elements of Bujutsu and Bugi be applied with total precision and accuracy. Their effectiveness is determined by whether they are applied at the right time, in the right way and with the right amount of energy.

For example, Bugi includes the elements of speed and power. Power is the emergence of energy which is used to achieve a goal. Speed can create power and power can substitute for the lack of speed. Speed can create real destructive power, for example, when a hurricane wind blows a straw to such a velocity that it penetrates a wall. Conversely, even if moving slowly, a power of sufficient force can push through the same wall. Effectiveness depends on whether they are applied correctly in light of particular conditions.

Thus, Bujutsu no Housoku can be expressed as determined activity to deal with a confrontational relationship in order to place oneself in a more advantageous situation given certain conditions. Bujutsu no Housoku is an inevitable consequence of achieving and maintaining control over an opponent using minimally required amounts of:
movement,
ma-ai, and
power.

This Bujutsu no Housoku is the basis for Aikido techniques, and, similarly, by keeping this in mind, very precise definitions and descriptions of Aikido techniques can be generated.

End of Part 1.
CHAPTER 2 - DEFINITION OF AIKIDO AS A COMBAT TECHNIQUE (BUGI) - (Part 1)

There are three key requirements for accurate Aikido techniques:
maintaining one's correct and proper posture,
entering into Shikaku and
consciously using the body to avoid direct confrontations with the opponent's movement.

The first requirement for an accurate technique is proper posture. Proper posture allows one to generate all the power that one possesses, execute movements accurately and rapidly, and also maximize one's attacking or defensive power.

The second requirements is to enter into Shikaku, that is, the opponent's "opening", "blind spot", or "dead angle". Although the opponent's dead angle is the opponent's weak point which can be attacked, it is simultaneously much more than this, i.e., it is a place where one can maintain one's own safety.

The third requirement is to use the body in a way that avoids collision, that is, a direct opposition of power against power, or movement against movement. To be most efficient in dealing with a confrontational relationship, one must use the opponent's power or movement and the minimally required amount of one's own movement and power to make the situation develop in the way one desires, that is, to one's own advantage.

Direct opposition of power or movement necessarily increases the required effort, and therefore wastes energy. In addition, when two sources of power or movement come into direct opposition, the one with stronger force will win, an outcome contrary to the objectives of Aikido's combat techniques. The ability to control movement so as to avoid clashes with the opponent requires repetitive and continual practice over an extended period of time until this approach becomes a strongly embedded habit.

If Aikido practitioners would devote themselves single-heartedly to focusing on these elements, Bujutsu no Housoku would automatically and naturally spring up and grow.

Another note to the preceding discussion is that Bujutsu, in addition to being based on fundamental and unalterable principles, has another aspect which is simultaneously free, unrestricted, and able to adapt to any circumstances. Within this, there is room for Kichi (quick wits) that do not necessarily fit into any pre-determined principles.

Those who train sufficiently so as to develop and master Bujutsu no Housoku will also generate Ki and its elements, which include KAN (intuition), and Kichi. This allows one to deploy mental and spiritual elements which are described, for example, as "leading Ki", the "feeling" or "knack" of Budo, and the ability to "see" the opponent's movement (even in a case when the opponent is behind one's back).

Kichi, however, has a higher and lower expression. Its higher form can only develop as a result of a high level of training aimed at creating consummate skills based on fundamental theories or principles. Those who have really mastered Bujutsu no Housoku can deploy such a high form of Kichi.

There is another and different example of a technique similar to Kichi which could be possibly (although roughly) included as Bugi. This is Sutemi (the sacrifice technique) in which one attempts to extricate oneself from danger by making a surprise move to startle the opponent.

Although this technique follows some of the principles of Budo, it ignores some other critical elements, such as posture and balance. Sutemi technique can be classified as one of the combat techniques, but because it does not include all aspects and elements of Bujutsu, it should not be included as a complete technique. This is precisely why Sutemi is not included in Aikido.

The reason why Aikido so fully expresses Bubi (the aesthetics of the martial arts) including many aspects such as precise techniques, sense of stability and elegance, is that it incorporates all the essential elements of Bujutsu no Housoku.

Based on the explanations and viewpoints described above, now I would like to enter into the subject of technical theories.
Art. 8
Thank you
By Enrique Silvera
Director, Asociación Samurai Aikido Kawai Uruguay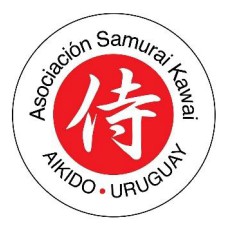 This January 2023 Hombu Dojo announced Shin Kaze Aikido Alliance promotions at the Kagami Biraki ceremony, at which I was promoted to 6th dan.

I am very grateful to the members of the Board of Directors of Shin Kaze for their trust in our school and for recognizing our work of more than 30 years in Uruguay.

I want to thank my family, my wife and children for always being by my side on this path.

Special thanks to Robert Zimmermann Shihan and the members of the Shin Kaze Board, to my students, without whom it would be impossible for me to advance, to my Teachers who have guided me along the way, Sensei Luis Castro, Sensei Carlos Cela and Shihan Renshin Kawai, to everyone with whom I have participated for more than 30 years at seminars in different countries, and to my colleagues and friends who are always there for me.

Finally, thank you to the Universe for taking care of us and guiding us along this path of AIKI.

I will continue striving and working to deserve this promotion.

Always flow like bamboo.

Enrique Silvera
Technical Director and Head of
Asociación Samurai Aikido Kawai Uruguay
Art. 9
Art. 10
Welcome to our most recent member dojos

We are pleased to welcome the following new dojos to Shin Kaze as Provisional Members:
Dojo Kamn Pilar, located in the city of Pilar in the Province of Buenos Aires, Argentina, led by dojo-cho Guillermo Ariel Maldonado, ikkyu.
The dojo is a member of Alianza Aikido Argentina, an organization affiliated with Shin Kaze and led by sensei Adolfo Calatayu, godan.


Dojo Kasoku ARMIRJOS, located in the city of Presidente Derqui, in the Province of Buenos Aires, Argentina, led by dojo-cho José Jeronimo Masiero, shodan, and also member of Alianza Aikido Argentina.


Sanshin Dojo, located in the city of Cumaná, in the state of Sucre, Venezuela, led by dojo-cho Everest Guix, sandan.


Triangle Aikido, located in the city of Durham, North Carolina in the US, and led by dojo-cho Charlene Reiss, godan.
We are also pleased to announce that dojo Team Silva Aikido Colombia, located in the city of Cali, in the department of Valle del Cauca, Colombia, and led by dojo-cho Jorge Silva, sandan, has recently been granted Full Member status after being a Provisional Member for the past year.

A warm welcome to all new dojos to Shin Kaze and congratulations to Sensei Jorge Silva and his dojo on attaining Full Member status!
Art. 11
Brief overview: Kazoku ARMIRJOS dojo
By José Jeronimo Masiero
Dojo-cho Kazoku ARMIRJOS, Argentina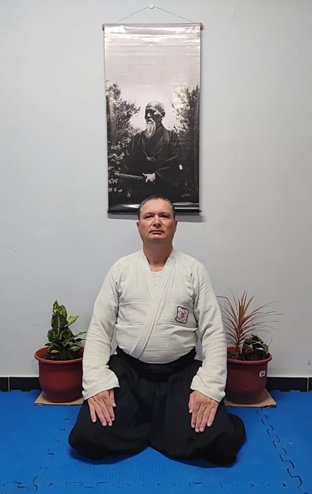 My name is José Jeronimo Masiero, I am 54 years old and I am an instructor at the recently created Dojo Kazoku ARMIRJOS, located in the town of Presidente Derqui in the Province of Buenos Aires, Argentina.

I started practicing Aikido in 2003 by the hand of my current Master Sensei Adolfo Calatayu, godan, who has inspired and guided me in my practice throughout my career in various organizations, such as the Latin American Aikido Federation through the Centro de Difusión del Aikido directed by Sensei Masafumi Sakanashi at Dojo Pilar, the South American Aikido Association directed by Sensei Ricardo Corbal under the direction of Shihan Yoshimitsu Yamada, also at Dojo Pilar, and now at Shin Kaze Aikido Alliance through the Alianza Aikido Argentina under the direction of Sensei Adolfo Calatayu at the Shinka Dojo.

Due to lack of time due to my work, since I have been a police officer for 30 years, and due to health problems caused by a serious accident that I had in 2010, more than once I was forced to pause my practice, but I have always returned to it with enthusiasm, supported by my family and teacher. It is for this reason that I have chosen the name "Kazoku ARMIRJOS" for my dojo: Kazoku means "family" in Japanese, and ARMIRJOS is an anagram of the names of my son Ariel, my wife Mirta, and mine, José.

In the year 2022 I obtained the Aikikai Shodan certificate. Although my dojo is young and for now it consists of three members, I look forward to more people starting the practice of this fascinating lifestyle, because I consider that Aikido is not only a martial art, but a great family, where bonds of friendship are forged.
Art. 12
Brief overview: Sanshin Dojo in Venezuela
By Everest Guix
Dojo-cho, Sanshin Dojo, Cumaná, Venezuela


My personal development as an Aikido deshi went hand in hand with my development as an instructor. In 2006, being only 6th kyu, it was necessary for me to take charge of the Shoshin dojo in the city of Cumaná in the state of Sucre in Venezuela where I practiced, due to the lack of instructors. I taught classes 3 days a week and traveled another 3 days to a neighboring city to receive instruction from my Sensei Luis Marín.

In 2013 the dream of the birth of the Sanshin Dojo materialized, also in Cumaná, a joint effort and dream of many people close to the dojo who offered their unconditional support throughout the 6 years since its design to its construction and opening. At present and after more than 20 years of study and teaching, I continue with the same initial impulse and in the same way fusing my development as a deshi and instructor.

During this entire period we were members of the organizations Venezuela Aikikai, directed by Sensei Nelson Requena and Sansuikai International, directed by the recently deceased Sensei Yoshimitsu Yamada, always under the supervision and support of Sensei Luis Marín. We are very grateful to all of them for years of sincere teaching and practice.

Currently we appreciate the opportunity to be members of Shin Kaze Aikido Alliance to continue our path of development and continuous growth in the martial path that O-Sensei Morihei Ueshiba bequeathed to all of us.
Art. 13 charlene
Brief Overview: Triangle Aikido
By Charlene Reiss
Dojo-cho Triangle Aikido, Durham, North Carolina, USA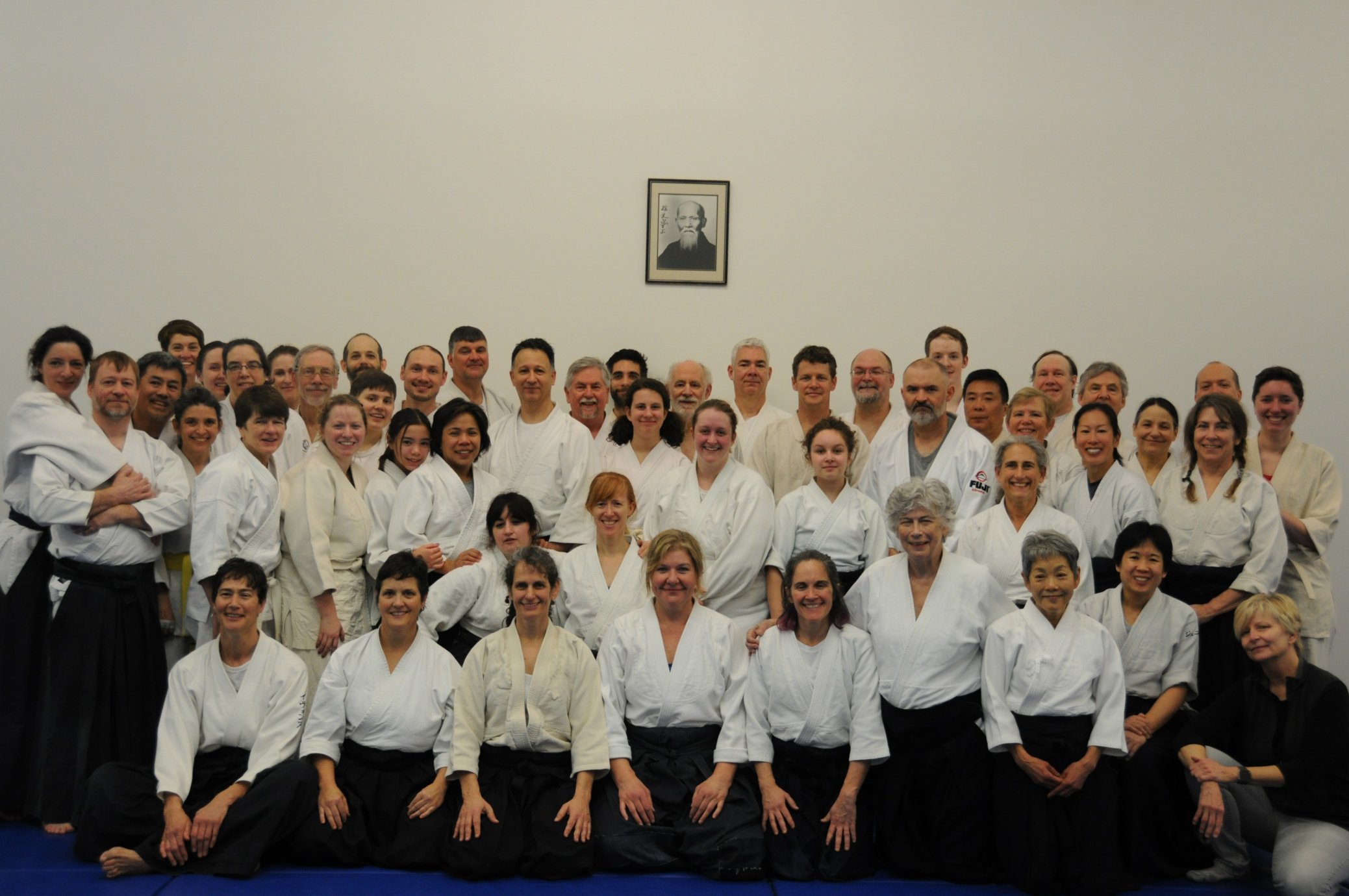 "It's a bit like 'NPR's Not My Job: Aikido Edition.' The teachers know that we are perfectly competent people in our real lives but they make us do things that we don't know how to do and we feel a little silly and everyone laughs. All in a really good way," answered Katie, a first-year student, when asked to describe Triangle Aikido in a few words for this article. Other students said, "it feels like training with family," the dojo is "supportive" and "welcoming to newcomers," and "teachers are encouraging."

When asked to introduce Triangle Aikido for the Shin Kaze Aikido Alliance newsletter, sharing the words of our students seemed more important than those of the teachers. As instructors, we know what environment we are trying to create - and it is validating to hear from our students that we are succeeding.

Triangle Aikido first opened in 1986 in Chapel Hill, North Carolina under the direction of Ned Danieley, a direct student of Fumio Toyoda Shihan, and was affiliated with the Aikido Association of America (AAA) in Chicago, IL. Ned also hosted an Iaido and Jodo study group under the direction of Rick Polland. In 2002, the dojo moved to its current location in Durham. At that time, Mark Hazelrigg and Charlene Reiss joined Ned as co-owners and assistant head instructors. After Toyoda Shihan's death in 2001, Triangle Aikido left AAA and remained affiliated with Hombu Dojo through Hiroshi Tajiri Shihan of Seibukan Aikido in Raleigh, North Carolina and Ed Germanov Shihan, director of the Bulgarian Aikido Association. Both were former uchideshi at AAA.

Since Ned Danieley's retirement in 2021, Charlene and Mark have assumed full responsibility for the dojo. We incorporated as a 501(c)7 nonprofit and have been working to ensure the sustainability of the dojo and its programs. We strive to make our dojo a welcoming and inclusive community, encouraging students to learn and grow together and at their own pace.

While the COVID years have been a challenging time to run a martial arts dojo, it has also presented new opportunities. As businesses started to re-open, we slowly returned to the mats and began to rebuild our membership. When the gyms that hosted other dojos in the area closed, we opened our doors to them and expanded our offerings. Our schedule now includes Aikido with teachers affiliated with three different associations, Iaido and Jodo, a Goju-ryu Taijutsu program for children, and Systema classes. We also moved our Saturday morning classes to a nearby park, enjoying weapons and no-fall practice in the great outdoors.

In the Before Times, Triangle Aikido often hosted seminars with and for other dojos and arts. The annual Women's Instructors Friendship Seminar (in the picture) with eight teachers from five states and four Aikido lineages was exceedingly popular. Other dojos also rented the space for seminars and special events. We are actively resuming this and look forward to having more folks coming through our doors.

Now we are pleased to explore a new phase of our journey with the Shin Kaze Aikido Alliance. We look forward to meeting and learning from new and old friends, carrying on old traditions and forging a new future together. As John, another Triangle Aikido student wrote, "We are more than the techniques, skills and manner we are instructed in the arts of Aikido. We strive to be in union with our communities, ourselves, and those we perceive as our foes or allies. We seek the path together to seek enlightenment, peace, and serenity."
Art. 14
Brief overview: Team Silva Aikido Colombia
By Jorge Silva
Dojo-cho Team Silva Aikido Colombia, Cali, Colombia

I began studying Aikido in 1992 with Atsuta Oumi Sensei, a Japanese teacher of the Tomiki Ryu line. In 1997, after Oumi Sensei returned to Japan, I met Michelle Laserre, a French Aikido teacher and Zen nun, a direct student of Yasuo Kobayashi Sensei, who was in turn a direct student of O Sensei. She founded the Colombian Aikido Association.

In 1999, and for two years, I studied Yoshinkan Aikido with Ivanu Cintu, an Italian Sensei, and in 2001 I came across Iwama Ryu Aikido taught by Ryoji Sato Sensei, a direct student of Hideo Hirozawa Shihan and Morihiro Saito Shihan.

From 2001 to 2021, I trained in and taught the Iwama style, introducing it to Colombia and creating Aikido Iwama Colombia. I studied with many direct students of Morihiro Saito Sensei and spent three months as uchi deshi at the Aiki Shrine in Iwama. In 2016 I received sandan from Hombu dojo and also from Aikido Iwama.

I worked for 15 years in the Colombian-Japanese Association as founder and general director of the section where the martial arts of Japanese Budo such as Judo, Karate-do, Kendo and Aikido are spread, with the support of the Japanese government in Colombia.

In 2021, after seeing inconsistencies on the part of some of the leaders of Aikido Iwama, I decided to withdraw from all organizations and create my own organization, Team Silva Aikido Colombia. I now have a small group of students with whom I share my knowledge and experience from the different Aikido styles I have studied.

In March 2022 I applied to join Shin Kaze Aikido Alliance and was accepted as a Provisional Member, and just recently as a Full Member. I look forward to continue learning and expanding my horizons and to being a worthy ambassador of the art of peace.

Currently I am president and founder of Humanitarian Aikido Colombia, a non-profit entity that works with the Fundación Biónica por Colombia. We raise funds to help children, youth and adults who have suffered from amputations of their upper or lower extremities so that they can access bionic prostheses with artificial intelligence, imported from Japan by the Kawatec company. I am a physiotherapist by profession, specializing in traditional Japanese medicine and chiropractice, kinesiology, acupressure, reflexology and osteopathy. I also practice Nichiren Buddhism, which I feel complements the philosophy of harmony of the Founder of Aikido Morihei Ueshiba.
Art. 15


Dear Dojo-cho and Supporters:


Please distribute this newsletter to your dojo members, friends and anyone interested in Shin Kaze Aikido Alliance.

If you would like to receive this newsletter directly, click here.



SUGGESTION BOX


Do you have a great idea or suggestion?

We want to hear all about it!

Click here to send it to us.
Donations
In these difficult times and as a nonprofit organization, Shin Kaze welcomes donations to support its programs and further its mission.

Please donate here: https://shinkazeaikidoalliance.com/support/

We would also like to mention that we accept gifts of stock as well as bequests to help us build our Shin Kaze Aikido Alliance endowment.

Thank you for your support!